Kazemaru appeared in Inazuma Eleven GO . It is shown in the Game cutscene that he was watching Raimon's final match in Amano Mikado Stadium.
Kazemaru made his reappearance in
Episode 43
, where he, along with
Kira Hiroto
,
Midorikawa Ryuuji
,
Fudou Akio
and
Kabeyama Heigorou
, are seen watching the match between
Raimon
and
Dragonlink
.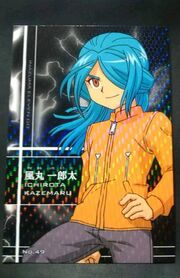 He is set to appear in Inazuma Eleven GO the Movie: The Ultimate Bonds Gryphon and is seen to help Raimon. He tought, trained and helped Kurumada, Shindou and Kirino the most though. Also, he comes to join Raimon in his younger form, along with the rest of some members in Inazuma Japan. During the match against Team Zero, he turned into his young form to help Raimon. He used Shippuu Dash to pass one adverse member, and then he used Koutei Penguin 2gou with Kidou and Fudou to break the cell where Aoi was. In the match, he was seen giving an advice to Kirino, telling him that he wouldn't defend without the other's defenders help..
Inazuma Eleven GO
Edit
Inazuma Eleven GO
Edit