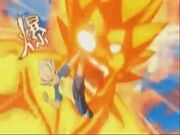 Bakunetsu Storm
(爆熱 ストーム
, Baku-netsu Sutōmu
) (dub:
Fireball Storm
) is a shoot hissatsu technique in the Inazuma Eleven universe.
Inazuma Eleven 2
Edit
Inazuma Eleven 3
Edit
Inazuma Eleven GO
Edit
Inazuma Eleven GO
Edit
This hissatsu is shown for the first time against Epsilon Kai and scored a goal, destroying Drill Smasher, their strongest keeper move. Gouenji mastered it with the help of Hijikata when he was taken off Raimon. It was first catched by Nero's Procyon Net.
Info (GO)
Edit
It reappear again in
Episode 42
as an Keshin Hissatsu.
Kurosaki
used this in order to score the second point.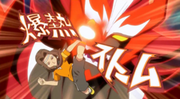 When Gouenji uses this move, first he powers up and a gigantic figure made out of fire comes out behind him. The figure then lifts Gouenji up and spins through the air in a similar fashion to his
Fire Tornado
; he then kicks the ball with much more power.